Cape Marguerite
Señoritas ® are a new series of cape marguerites (Osteospermum) with excellent growth and blooming characteristics. The cape marguerite is also known as cape daisy, daisybush, African daisy, cape marigold, star-of-the-veldt and Paternoster bush. The plant series Señoritas is the result of years of breeding efforts by Hendriks Young Plants. This family business from the horticultural region of Westland in the Netherlands, are also the breeders of the plant varieties Bella Fuchsia ® and Pelargonium Grandiflorum.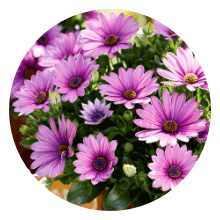 A place in the sun
The cape marguerite is native to the Eastern Cape, South Africa. Hence their cape-related names (cape marguerite, cape daisy, cape marigold). The Osteospermum loves bright sun! Place your Señoritas ® in a sunny spot in the garden or on the balcony. The summer flower will reward you with colourful blossoms during the day. This garden plant is perfect for south-facing gardens.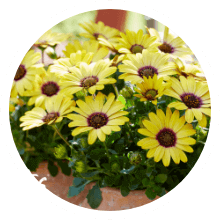 Brightly coloured blossom heads
Cape marguerites are known for their brightly coloured blossoms and come in a diverse range of colours. Their floral shape reminds us of daisies or marigold. The cape marguerite closes their blossoms in the evening and opens up in the morning, once it has caught enough sunrays. Honeybees and bumblebees can be seen visiting the plant during the day to feed on their sweet nectar.